Signs You Need New Tires for Your Car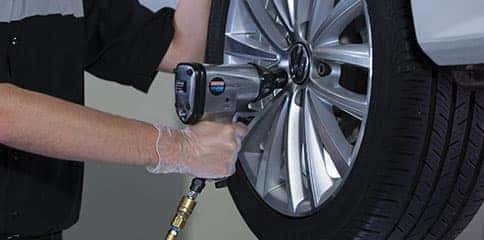 If you're in the market for either a new or used Volkswagen in New Lenox, Hawk Volkswagen is the dealer you need to see. Hawk Volkswagen is the #1 volume Volkswagen dealer in Illinois based on 2018 retail sales, and we always maintain a great inventory of both new VWs and pre-owned cars and trucks.
Summertime and vacation plans are upon us, and wherever the road ahead takes you, we want you to travel safely, and having a good set of tires under you is one of the keys to safe travel.
So to help you drive safely in the months ahead, here are four signs that tell you it may be time to invest in a new set of tires.
Worn treads
The depth of your tire tread should never fall below 1/16 of an inch and probably needs to be twice that depth if you frequently drive on slick, wet surfaces. To check, take a penny and insert Lincoln's head down into the tread. If Abe's entire head remains visible, you don't have enough tread and need new tires.
Another way to tell if your tires need replacing is to look for the wear bar, the rubber bar that runs perpendicular to the tread. As the tread wears down, the bar becomes more visible, and if the tread is even with the wear bar, it's time to buy new tires.
Bulges and blisters
When the outer surface of a tire starts to weaken, bulges or blisters extending out from the tire's surface can appear, and these weak spots can cause a tire to blow out suddenly. So, keep an eye out for any bulges or blisters and get the tire(s) replaced immediately.
Sidewall cracks
Beyond the treads, look for cuts or cracks in the sidewalls of your tires. If visible, this can indicate a slow leak or, worse yet, a tire that's about to blow out.
Too much vibration
If your vehicle is constantly shaking, even on smooth streets and highways, you may need new tires. The shaking might be caused by bad tire alignment or balance, but it can also mean there's a problem with the interior of the tire.
Whatever your driving needs, a new or used Volkswagen in New Lenox or expert service, come see us at Hawk Volkswagen, the #1 volume Volkswagen dealer in Illinois based on 2018 retail sales.